Picnic Area
PONDL Winery is nestled in the heart of Lodi CA. wine country. We have landscaped a beautiful picnic area, among the vines, opposite the tasting room to accommodate your picnics and gatherings, big or small.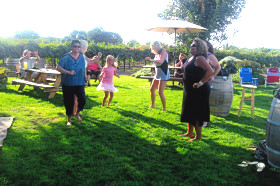 The picnic furniture is worthy of special mention. Select pieces crafted out of rustic wine barrels by local craftsmen. The chairs are of the Adirondack style with convenient cut outs for your wine glasses. The end tables are of similar style convenient for cozy picnics for two. We also offer larger standard picnic tables for your group.
In addition there is a private garden picnic space great for more intimate gatherings.
PONDL Winery does private tastings and picnics for small or large groups:
BIRTHDAYS!
WORK GROUPS!
SMALL REUNIONS!
BACHELORETTE PARTIES!
SOCIAL MEETUP GROUPS!
ANNIVERSARIES!
FAMILY GATHERINGS!
We'll open off hours and on off days! No charge for space so book your private tasting and picnic today: 209 367-3672 / email to: pondlwinery@att.net.
So get your picnic ready or run to the deli and come on down to PONDL for a tasting and a delightful picnic experience!